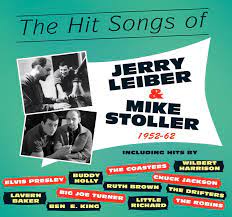 Os presentamos un programa divido en dos partes bien distintas. Empezaremos repasando la vida y obra de Leiber y Stoller, compositores y productores de algunos de los temas más conocidos y reputados del pop y del rock americano de los 50 y los 60 con decenas de canciones para Elvis Presley, Ben E. King, The Coasters o Peggy Lee. Desfilarán por aquí "Stand by me", "Jailhouse rock", "Yakety yak" o "Stuck in the middle with you", entre otras.
En la segunda parte del programa os presentamos una sección que vamos a llamar "un minuto de gloria" y en la cual ponemos pequeños trozos de canciones que nos han impactado y que amalgaman, en muchos casos, la trayectoria de una banda. Para esta primera ocasión, nos centramos en los grandes grupos del rock progresivo.
Keep rocking, friends!!
Hemos escuchado:
I- Leiber y Stoller:
Elvis Presley————————— King Creole (1958)
Charles Brown————————- Hard times (1952)
The Beatles—————————- Kansas City/Hey-hey-hey-hey (1964)
Elvis Presley————————— Jailhouse rock (1957)
The Coasters————————— Three cool cats (1958)
The Coasters————————— Yakety yak (1958)
The Rolling Stones——————– Poison Ivy (1964)
Ben E. King—————————- Stand by me (1961)
Peggy Lee—————————— Is that all there is? (1969)
Stealers wheel————————- Stuck in the middle with you (1972)
II- Un minuto de gloria:
Rush————————————– (trocito de) Freewill (1980)
Marillion——————————— (trocito de) Hard as love (1994)
Pink Floyd——————————- The happiest days of our lives (1979)
Lucifer`s friend————————- (trocito de) Spanish Galleon (1974)
Emerson, Lake & Palmer————– (trocito de) The Sheriff (1972)
Rush————————————- (trocito de) Tom Sawyer (1981)
Yes————————————— (trocito de) Close to the edge (1972)