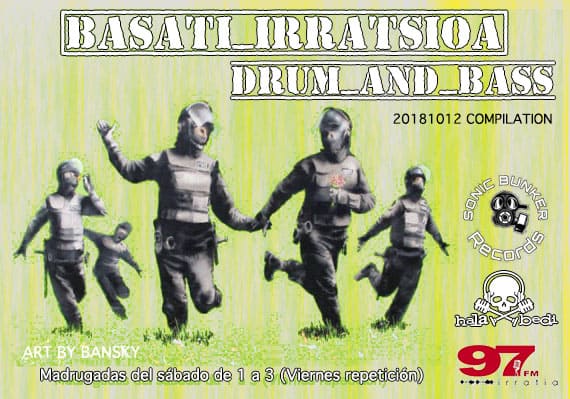 Estrenamos temporada con una buenísima noticia y es que a partir de ahora nos podréis escuchar también a través de las ondas de Halabedi Irratia.
En el programa de hoy repasaremos las novedades Drum & Bass que nos han llegado a la redacción, tenemos bastante acumulado así que disfrutaremos de estos tracks en una sesión mezclada en directo.
Tracklist
Low5 – Welcome to the future (original mix)
Kiril – Turn Back Time
QZB – Ornstein
QZB & Enei – Johannesburg
Mejfus – Signalz
Upgrade – Blow (Original mix)
Voltage Voodoo & Mc Mood – Make Up (feat. Mc Mood) (Original Mix)
Alerstorm – Hook
Funtcase – You must comply
Shrust – The Leader (Hoax & Tron Remix)
Juno – Curve
Coda – Power surge
Coda – Want more
Shiny Radio – Money Monkey
Amit – Cold Blood
Break – Hip Punch
Break – Keepin it raw
Culture shock – get physical
Jade – Man eating lizard dragon (dnb vip)
Jade – Tv says
Kiril – Strike
Kiril – Reload
Kiril – mkd
Kiril – this
Machinecode – Evacuation
Eazy – Falcone
Enzymes & Twiggie Smallz – Mind, Body & Soul (Original Mix)
Holsten – Abscess
Collapse – Magnetosphere
Deekline and freestylers – Ray Gun (original mix)
Low5 – Beginning of something new (feat Shahrzad)
Basati Irratsaioa – Todas las madrugadas de los sábados y repetición las madrugadas del viernes de 1 a 3am (GMT+2) , en 97irratia, Halabedi Irratia y Sonic Bunker !