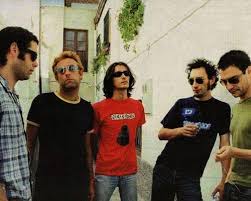 Continuamos celebrando "Una semana en el motor de un autobús" de los Planetas. Nos tocará hablar de temamos míticos como Toxicosmos o la Copa del Rey con influencias de The chills o de New Order, entre otros.
Y de paso, nos iremos a escuchar a otras grandes influencias de la banda como The Troggs o Yo La Tengo. Para acabar, una efeméride, los 20 años desde la publicación de su EP "El rollo mesiánico de Los Planetas" que celebramos con "La guerra de las galaxias".
La semana que viene despedimos la temporada con un merecido homenaje a Dr. John.
Hemos escuchado:
The Chills——————————— The rolling moon
Los Planetas—————————— Toxicosmos
Los Planetas—————————— Línea 1
New Order——————————– Bizarre love triangle
Robyn Hitchcock and the Egyptians— Glass
 Los Planetas—————————— La copa de Europa
The Troggs——————————– Whith a girl like you
Los Planetas—————————— Pegado a tí
Los Planetas—————————— De viaje
Yo la Tengo——————————- A shy dog
Los Planetas—————————— La guerra de las galaxias