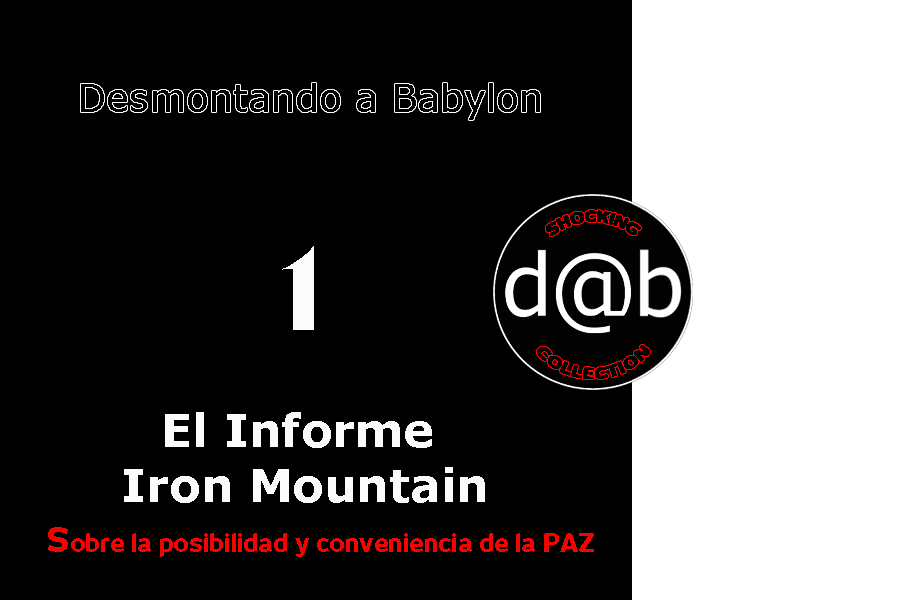 Presentamos la serie
SHOCKING COLLECTION
de Desmontando a Babylon
Colección de audios-d@b con información esencial y por ello probablemente, imprescindible conocer, antes de analizar cualquier variable de nuestro entorno que queramos investigar.
El Primer Capítulo está dedicado "de lleno" al Informe de cabecera de este equipo: INFORME IRON MOUNTAIN, PARA LA POSIBILIDAD Y CONVENIENCIA DE LA PAZ (1963-1966)
…………………………….
TRACK LIST
Sintonía:
Hope & Light (Luz y Esperanza) – GREGTOWN
Tema:
Bases de fondo escuchadas:
INSTRUMENT OF JAH – It´s time to clean up
POSITIVE VBZ – Trenchtown Riddim 
NEW YORK SKA JAZZ ENSEMBLE – TAKE FIVE
ERNEST RANGLING – SATTA MASSAGANA
TRACK DOC
CANAL YOUTUBE Desmontando a Babylon
…………………………….