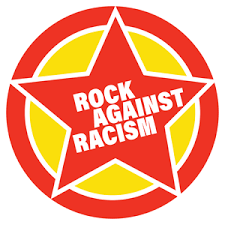 Esta semana os ofrecemos una conversación con el periodista Miguel Ángel Fernández sobre el movimiento RAR-"Rock against Racism" (Rock contra el racismo) que tuvo su desarrollo a mediados y finales de los 70 y hasta los primeros 80 en el Reino Unido para luchar contra el racismo que empezaba a campar a sus anchas por las islas y que afectaba también a las clases populares. Charlamos sobre los hitos de RAR, como el famoso concierto de Victoria Park en 1978,  sobre las bandas señeras que en la onda del punk, el reggae y el ska cambiaron el paradigma musical de la época, así como sobre las influencias posteriores del movimiento y ciertas similitudes con la situación actual local y mundial.
Desfilarán por el programa bandas como The Clash, Bob Marley and The Wailers, The Specials o Kortatu, entre otras.
La semana que viene más cosas.
Hemos escuchado en "Rock against racism":
Bob Marley and the Wailers————————–  I shot the sheriff (1973)
 The Clash———————————————– Police and thieves (1977)
Tom Robinson Band———————————– Glad to be gay (1978)
The Specials——————————————–  Nelson Mandela (1984)
Billy Bragg———————————————-  Wich side are you on? (1984)
Kortatu————————————————–  La línea del frente (1985)
The Clash———————————————— London calling (1979)