Arañas de Marte: Repasando Sly and the Family Stone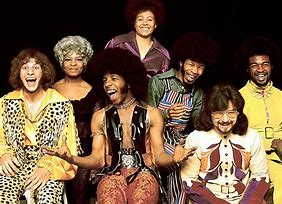 Realizamos un par de programas dedicados a la mítica banda de funk Sly and the family stone. Desde que Sly Stone y Fred Stone unieron sus dos bandas para crear Sly and the family stone allá en 1967, se produjo una nueva forma de entender la música negra. El funk se unió con el rock y el pop, se produjeron avances en las técnicas de grabación y se proyectó a otro nivel escénico. Pero ademas, los Sly and the family stone unieron a blancos y negros, a mujeres y hombres en el escenario y cantaron a la igualdad y a la paz, conectando con el espíritu de finales de los 60 y primeros de los 70.
Repasaremos en este primer programa sus primeros discos.
Hemos escuchado:
Sly and the family stone—————————— Underdog
Sly Stone y Mojo men——————————— My woman`s head
Sly and the family stone—————————— I cannot make it
Sly and the family stone—————————— Bad risk
Public Enemy—————————————— Fear of a black planet
Sly and the family stone—————————— Dance to the music
Sly and the family stone—————————— Are you ready?
Sly and the family stone——————————- Fun
Sly and the family stone——————————- Life
Beck—————————————————— Sissyneck
Sly and the family stone——————————– Love city
Sly and the family stone——————————– M`lady
Sly and the family stone——————————– Stand
Sly and the family stone——————————– Don`t call me nigger, whitey
Sly and the family stone——————————– I want to take you higher