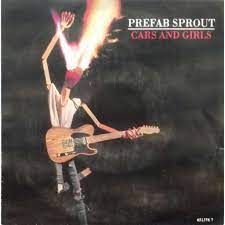 Un programa variadito el que os presentamos esta semana que empieza por un «Hilando fino» alrededor del temazo «Cars and girls» de Prefab Sprout que nos va a llevar a repasar su canción hermana «The King of rock and Roll», así como a canciones de Bruce Springsteen y de Thomas Dolby, habitual productor de los Prefab.
En «Canciones con respuesta» escuchamos la romanticona y popera (pero resultona) «Love Will keep us together» de Captain and Tennille que obtuvo como cínica respuesta la mítica «Love will tear us apart» de Ian Curtis y sus Joy Division, último y exitoso single de la banda que salió poco después de la muerte de Ian.
Y además peticiones variadas-Telekrimen y Estrogenuinas-, un mételes caña jugoso con Shego, lo nuevo de Zea Mays cantando con Rozalén y una despedida con Eddie Floyd y su mítica «Knock on wood»….un crimen perderse todo esto, chavalxs.
Hemos escuchado:
I-Sección «Hilando fino»: alrededor de «Cars and girls»
Prefab Sprout——————————— Cars and girls (1988)
Bruce Springsteen (con Sam Moore)——- Soul days (2022)
Prefab Sprout——————————— The king of rock and roll (1988)
Thomas Dolby——————————– Hyperactive! (1995)
II- Sección de peticiones:
Telekrimen———————————— Culto a lo imbécil (2019)
Estrogenuinas——————————— Gentrificación (2020)
III- Sección «mételes caña»:
Shego——————————————- Vicente amor (2021)
IV- Sección de novedades:
Zea Mays (con Rozalén)———————– Ez naiz ni (2022)
V- Sección de «Canciones con respuesta»:
Captain and Tennille————————— Love will keep us together (1975)
Joy Division————————————- Love will tear us apart (1980)
VI- Despedida-músicas negras:
Eddie Floyd————————————– Knock on wood (1966)