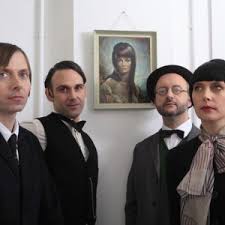 Después de haber realizado varios programas temáticos sobre música y ecología, trabajo y educación, retomamos algunas de nuestras secciones, que ya las estábamos echando de menos.
Comenzamos por un hilando fino que, de manera insospechada, nos llevará desde la injustamente minusvalorada banda Piano Magic hasta los padres del country rock (con permiso de The Byrds): los Flying Burrito Brothers.
También tendremos un historia de aquí, con Hesian y un rock prog que sí con Exquirla, el fantástico cruce entre Toundra y el Niño de Elche. Remataremos con lo último de Los Planetas y con Eddie Kendricks, mítico componente de The Temptations.
Que lo disfrutéis.
Hemos eschuchado:
Piano Magic—————————— Landline
John Grant——————————- Grey tickles, black presssure
Massive Attack————————— Protection
Flying Burrito Brothers—————– Hot Burrito # 2
Hesian———————————— Zerotik
Exquirla———————————-  Destruidos juntos
Los Planetas—————————– Islamabad
Eddie Kendricks———————— Keep on truckin`