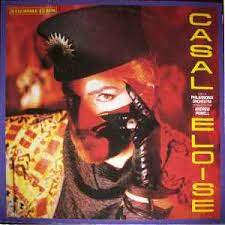 Esta semana os proponemos en "Hilando fino", una de nuestras secciones tradicionales, un viaje a partir de la versión de "Eloise" de Tino Casal, reinterpretada desde la de los hermanos Ryan de 1968. Nos llevará a un viaje variopinto por Abbey road, por el tecno pop y hasta por el heavy.
Además, os presentamos a Olivia Orell en novedades, atendemos a peticiones jugosas con rock y jazz fusion y nos despedimos con los ahijados musicales de Eli Paperboy Reed, The Harlem gospel travelers.
Un crimen perdérselo.
Hemos escuchado:
I- Hilando fino…. Eloise
Tino Casal—————————— Eloise (1987)
Barry Ryan—————————– Eloise (1968)
Barry Ryan—————————– The colour of my love (1969)
Alan Parsons Project—————— The fall of the house of Usher-Pavane (1976)
Azul y negro—————————- No tengo tiempo (1983)
Obús————————————- Va a estallar el obús (1981)
II- Novedad.
Olivia Orell—————————– Fly (2023)
III- Peticiones
Tuk Smith and the Restless hearts– Ballad of a misspent youth (2022)
Sanarky Puppy————————- Mean green (2022)
IV- Despedida-músicas negras
The Harlem gospel travelers———- Look up (2022)